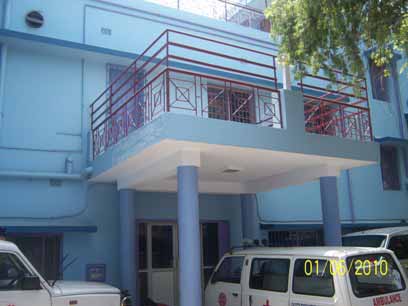 HISTORY OF BANTRA ST. THOMAS' HOME HOWRAH
The Bantra St. Thomas' Home, has been founded by the British social worker Miss Joan Evans, and was inaugurated by the Bishop of Calcutta & Chairman of Calcutta Diocesan Trust Association on 17th November, 1976. It was given the name "House of Peace".
The beautiful building belongs to the Calcutta Diocesan Trust Association. In 1976, it provided accommodation to 14 – 17 women and children suffering from Tuberculosis.
The Bantra St. Thomas' Home initially provided patients with a good diet, rest companionship and love. All treatment and TB drugs were provided free of cost through the Government Hospital of Howrah. Qualified Doctors visited the home free of cost.
Income for Bantra St. Thomas' Home was generated from the interest of an investment held with Calcutta Diocesan Trust Association (CDTA). In addition, the home used to receive local and overseas donations. This was the picture of the home till 31st of March' 2004.
From 1st April 2004, Bantra St Thomas' Home started to work in cooperation with "German Doctors e.V. (former German Doctors for developing countries" (GDC). Medical Doctors from Germany, who were already treating TB patients in own centers, were looking for an in-door facility to treat seriously ill TB patients. They proposed to Calcutta Diocesan Trust Association to construct a new TB ward for female patients with around 25 beds on the roof of the existing Bantra St. Thomas' Home. All construction- and equipment costs were covered by "German Doctors e.V. ". The enlarged Bantra St. Thomas home started the work with joint venture from first April 2004 onwards.
In addition to the medical treatment, TB-patients get a chance for vocational training and lessons to achieve basic knowledge in reading and writing while they stay in Bantra St. Thomas Home. We also promote all around development of the patients. For this we have two teachers, one for tailoring training and one for Hindi, reading and writing. The aim of this assistance is to make patients self-dependent after they return home. Tailoring machine & materials are provided by Bantra St. Thomas' Home.
As there is a huge burden of TB in the surrounding urban slums, the need for additional facilities for diagnostic and treatment in Bantra St. Thomas Home increased. Therefore, in addition to the above mentioned building, other small buildings for an X-Ray machine, a DOT Centre, a Generator Room, and an administration room have been constructed. Several programs are now attached to Bantra St. Thomas Home, which started as a small project decades ago.